MUNIR CHERYAN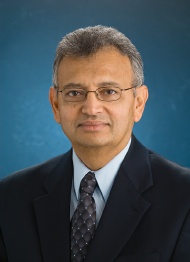 Professor Emeritus
University of Illinois at Urbana-Champaign
Agricultural Bioprocess Laboratory
1302 W. Pennsylvania Avenue
Urbana, Illinois 61801
Phone: (217) 333-9332
e-mail: mcheryan@illinois.edu
---
Dr. Munir Cheryan is internationally recognized for his expertise in bioseparations, particularly membrane separations and its application in several biobased industries, such as food, nutraceuticals, biotechnology and biofuels. He has a wealth of knowledge of several membrane technologies (MF, UF, NF, RO, ED, PV) which is reflected in the 225+ research papers, over 185 conference abstracts, and over 100 invited presentations in 25 countries. He is the author of the Ultrafiltration Handbook (Technomic, 1986) and Ultrafiltration and Microfiltration Handbook (CRC Press, 1998). These books have received widespread acclaim as the first comprehensive treatment of this technology and they are among the most highly-cited and circulated references on this subject.
He has extensive experience in process engineering and design, fermentation for fuels and biochemicals, biomass pretreatment, bioreactor design and downstream processing (including centrifugation, chromatography, filtration, liquid-liquid extraction, among others). His skill in a wide range of process technologies enables him to optimize processes and create value-added products in several industries, including:
Beverage (natural extracts; juices; sweeteners; tea)
Biochemicals (acetic acid; 2,3-butylene glycol; citric acid; lactic acid; 1,3-propanediol)
Biofuels (biodiesel; ethanol from corn, whey, cellulosics)
Corn processing (dry-grind ethanol; wet-milling)
Dairy (milk and whey protein concentrates and isolates; lactose utilization; bioactive proteins and peptides)
Food technology
Nutraceuticals (antioxidants; bioactive peptides; carotenoids; lecithin; phytochemicals; polyphenols)
Plant proteins and coproducts (alfalfa; corn; dry beans; soybeans; sunflower; tobacco)
Vegetable oils (corn; palm; rice bran; soybeans; wheat germ)
He has a B.Tech in chemical engineering from the Indian Institute of Technology at Kharagpur, and M.S. in chemical engineering and Ph.D. in food science from the University of Wisconsin-Madison. He has been at the University of Illinois since 1975, most recently as professor of food and biochemical engineering in the Departments of Food Science & Human Nutrition and Agricultural & Biological Engineering, where he supervised over 80 post-doctoral fellows, graduate students and technicians over a 30-year academic career. He became Research Professor in 2006 and since then, he has focused almost exclusively on technology transfer, commercialization of new technologies and creating intellectual property through innovation and experimentation. He works closely with companies and government agencies where he is particularly valued for his expertise in scale-up, process optimization and creating higher-value coproducts.
He has been a consultant to and/or served on technical advisory and/or management boards of over 45 companies, from multinational giants to start-ups, as well as government organizations and the UNDP-FAO. He has been Founder, Chief Scientific Advisor and/or President of three start-up companies since 2001. He is inventor or co-inventor of 12 issued and 4 pending US and Canadian patents, as well as over two dozen IP disclosures to clients and employers.
Five patents on the COPE process have been licensed to Prairie Gold Inc. for the production of high-value coproducts in corn-based ethanol plants. These include (1) zein (a high-performance biopolymer with applications in food, beverages, pharmaceuticals, nanomaterials and a wide variety of other applications), (2) a unique edible corn oil that, unlike today's commercial corn oil, contains health-promoting components such as sterols, carotenoids and other components found naturally in corn, and (3) xanthophylls such as lutein and zeaxanthin. He was honored with the 2011 Ethanol Award from the Illinois Corn Growers Association for these accomplishments.
Another patent (US Patent 4,443,540) describes a "membrane bioreactor" that combined a reaction vessel with a membrane separation unit in a semi closed-loop configuration that is used to continuously produce hydrolyzates from large carbohydrates (e.g., sugars from starch and cellulosic materials) and from proteins (e.g., bioactive peptides).
Dr. Cheryan has received numerous awards and honors, among them the Archer-Daniels-Midland award from the American Oil Chemists Society in 1984, the Ethanol Award in 2011 from the Illinois Corn Growers Association, Paul Funk award from the Funk Foundation in 1987 for research, Gardner award in 1988 from the Association of Food Scientists and Technologists (India), the 1991 Soybean Utilization Research Team Award from the American Soybean Association and ICI Americas, Inc., the Research and Commercialization award from the National Corn Growers Association in 1993, a commendation from the State of Illinois Legislative Assembly in 1987 and the "Outstanding Professor" award from university students for his teaching. He has received international fellowships from the University of Western Sydney, Australia (1989), American Institute of Indian Studies (1983-84) and a lectureship from the Government of Taiwan (1990). He has been on the editorial boards of the Journal of Biotechnology, Journal of Applied Membrane Science and Technology, International Dairy Journal, Journal of Food Engineering, Journal of Food Process Engineering and Membrane Technology International. He is one of the founders of the North American Membrane Society (NAMS).
---